Es waren die Befehle der königlichen Majestät Victoria, die Sir Montgomery Hercules "Greek-o" Wennthrop, 2nd Baron Wennthrop of Tittleby nach Gumba brachten. Seine Mission ist die Kolonie von Gumbaland zu etablieren und organisieren.
Der Hafen von Mbambo, der größte natürliche Hafen der Region, schien der beste Platz für ein Hauptquartier zu sein. Mbambo ist schon lange ein aktiver Handelshafen zwischen Gumba und dem Sultan von Zanzibar und wird die nötigen Ressourcen liefern können für die Expansion nach Westen.
Die ersten Sikhs, vom Sudan nach Gumba geschickt, sind schon angekommen und sind bereit Königin und Vaterland zu verteidigen.
Einige Einheimische wurden ebenfalls als Askari engagiert. Ihre Uniformen, die an Bord der HMS Serendipity Richtung Gumba sich befanden, sind leider nie angekommen, da das Schiff von Piraten überfallen wurde. Bis neue Uniformen verfrachtet werden, hat man sich mit Deutschen Uniformen ausgeholfen, die man in einer verlassenen Bananen-Plantage gefunden hat.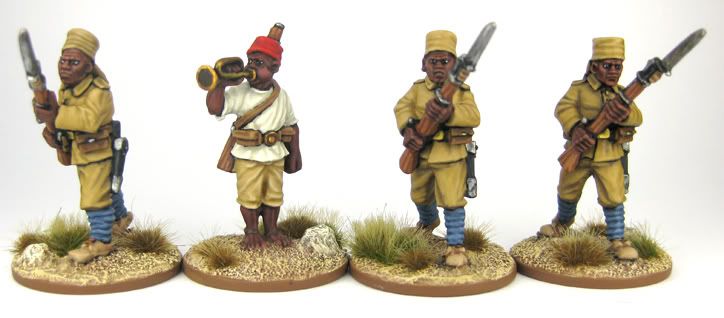 Gumba wird zivilisiert, daran hat Baron Wennthrop keinen Zweifel.Und in diesem Zusammenhang, müssen skrupellose Sklavenhändler und unzivilisierte Einheimische unter Kontrolle gebracht werden. Der Belgischen Expedition - teilweise vom Londoner Museum finanziert - gewährt man bis jetzt Bewegungsfreiheit, auch wenn sie sich unter strengster Beobachtung befindet. Vorerst darf sich Professor van Laakdikten an seinem Größenwahn erfreuen. Die Deutschen scheinen die gleichen Gebiete im Auge zu haben, aber Baron Wennthrop ist sich sicher, dass eine diplomatische Lösung zwischen Cousins möglich ist. Und jeder, der sich ihm widersetzt, wird seine zuverlässigen Sikhs, seine belastbaren Askari und Major Horrace Cope kennenlernen.
-----------------------------------------------------------------------------------------------------------
It was under the orders of her Majesty Queen Victoria, that Sir Montgomery Hercules Wennthrop, 2nd Baron Wennthrop of Tittleby (also known as Greek-o, due to his middle name) came to Gumba. His mission is to establish and organise the colony of Gumbaland.
Mbambo, the largest natural port in Gumbaland, seemed like the best solution to establish a base of operations for the British. An active merchant port between Gumba and the Sultan of Zanzibar already, it provides the necessary resources for the planned expansion westwards.
The first Sikhs, coming in from Sudan, have already disembarked and are ready to defend Queen and Country.
A bunch of Askari were recruited in Mbambo as well. Their uniforms, being shipped aboard the HMS Serendipity, were sadly lost when the Serendipity was attacked by pirates. Till new uniforms are shipped to Mbambo, the Askari have been clothed in German uniforms found in a deserted Banana plantation.
Gumba will be civilised; it is Baron Wennthrop's certainty. And given that, ruthless slavers and unruly, uncivilised natives have to be subdued. In the name of the Queen and in the name of God. The Belgian expedition, which is partly funded by the London Museum, is given freedom of movement till then and kept under close supervision. For now Professor van Laakdikten may indulge himself in his delusions of grandeur. The Germans seem to be aiming for the same territories as the British, but Baron Wennthrop is certain that a diplomatic solution can be found amongst "cousins". And those who oppose him will meet his trusted Sikh, resilient Askari and Major Horrace Cope.